Partial Care Programs for Treating Addiction
A partial care program is a hospital-based form of outpatient drug rehabilitation
Partial Care Programs for Treating Addiction
A partial care program is a hospital-based form of outpatient drug rehabilitation. These programs provide many of the same benefits as residential treatment centers. Although those in partial care programs don't reside at the facility, they still receive a high level of care. Individuals will travel to the facility for addiction treatment, as well as dual diagnosis treatment support if necessary.
Our drug addiction specialists can guide you throughout the entire recovery process. We encourage you or a loved one to reach out with any questions or concerns that you may have. Our goal is not only to treat addiction but to set our patients up for a more fulfilling life.
A More In-Depth Look: What is a Partial Care Program (PCP), Also Known as a Partial Hospitalization Program (PHP)
Partial care programs (PCPs) are also referred to as day programs. PCPs offer intensive treatment for behavioral health issues and addiction without the requirement of an overnight stay. These programs offer a higher level of care compared to standard outpatient programs.
A patient in partial care[1] will travel to the recovery center for several hours each day, three to five days per week. We like to emphasize that each treatment is personalized, so the exact schedule will vary. However, one of the many benefits is that the individual can return home after treatment each day.
This program is a step down from a more intensive form of inpatient treatment. In some cases, a PHP offers a step up in addiction treatment when standard outpatient programs aren't enough.
Our patients in partial care are also medically monitored during their time in treatment. We provide medical care and support throughout the entire recovery journey. Evidence-based therapies are a core aspect of treatment.
Addiction is a disease that must be treated from the inside out. Oftentimes, there are mental and emotional underlying roots of addiction. There is no shame in getting mental health treatment for your condition.
According to the National Survey on Drug Use and Health (NSDUH), 19.7 million American adults (aged 12 and older) battled a substance use disorder in 2017. These statistics reveal an unfortunate truth to us.
There are millions of people that need help and care. No matter what challenge you may be facing, we assure you that you're not alone. Partial care is a step you can take in conquering addiction.
Fortunately, there are many options for a successful recovery. Partial care programs are one of those options. With a tailored treatment program and daily support, a long-lasting sober life is possible.
How Can a Partial Care Program Help Me?
PCPs target addiction, as well as any mental health disorders that may be present. Mental health is immensely important, whether you're a recovering individual or not. Many people shy away from seeking help or leave the problem alone.
Although it may seem scary to tackle at first, the long-term reward is worth it. Addressing issues such as depression or anxiety allow you to work through them and become a much stronger person.
Partial care programs teach recovering individuals coping skills and strategies to overcome any challenges they face. This includes temptations and cravings, as well as mental health concerns. Perhaps the patient has anxiety and finds themselves continually overthinking.
With evidence-based therapy methods, you'll learn how to address these concerns and work through them. Our team also helps with medication management. We'll assess your needs and work to incorporate the right medication into your treatment plan.
This treatment program is ideal for those who benefit from structured programming but do not require 24/7 supervision. Our facility offers everything from medical care to an encouraging and supportive community.
Learn More About Our New Jersey-Based Outpatient Facilities
Absolute Awakenings Partial Care Facilities
Click on the map to tour our facilities
Facility Address
3000 NJ-10, Morris Plains
New Jersey 07950
Mailing Address
3000 RT 10 W, Morris Plains
New Jersey 07950
What to Expect in a Partial Care Program
Partial care programs at our facility offer services such as:
One of the key components of any treatment program is an evidence-based approach that incorporates varying methods. What works for one patient may not work for another, and that's okay. That's why we emphasize the personalization of each treatment. Patients in our partial care receive a high level of support and care.
Our dedicated and caring staff will help you from day one. We provide a variety of amenities from a comfortable environment to additional forms of care.
These services will be woven into each patient's treatment. After a thorough evaluation, we'll walk you through the different parts of inpatient treatment.
Designated hours of group therapy per week
Individual therapy sessions
On-going clinical assessments
Community-based support
Medical evaluation and treatment
Psychiatric evaluation and treatment
12-Step immersion
Aftercare planning
Addressing Mental Health Disorders in Partial Care Programs
A dual diagnosis can be defined when an individual is diagnosed with one or more mental health disorders, along with addiction. Dual diagnosis is also referred to as co-occurring disorders. These disorders can include anything from anxiety to post-traumatic stress disorder.
Partial care programs aim to address all mental health concerns, no matter the circumstance.
The exact type of dual diagnosis treatment one receives is dependent upon the individual and their needs. Addiction often has underlying roots that are unique to each patient. Sometimes a mental health disorder can occur as a result of addiction. For some, substance use is a way to cope with their pain and turmoil.
The exact symptoms of each patient will vary significantly. However, there are certain signs that you can generally look out for.
Fortunately, partial care programs offer evidence-based methods in treatment to target all of these problems. For each of these signs and symptoms, there is a solution on the other end.
The symptoms of a dual diagnosis can typically be noticed by:
Sudden change in general behavior
The trouble with daily tasks and responsibilities
Avoiding events or social activities that were once enjoyed
Ignoring health and hygiene
Disillusioned thinking or cognitive impairments
Refusal to accept the addiction and problem at hand
Mentions of thoughts of suicide or suicidal behaviors
Erratic and impulsive behaviors
Trouble managing finances
Poor performance at school or work
Benefits of a Partial Care Program
Partial care programs are an ideal in-between of inpatient rehab and outpatient programs.
The benefits of partial care offer advantages such as:
In-depth therapy
Wide access to medical care
Ongoing mental health care
Consistent meetings
Day treatment
Partial care programs can help individuals recover and find the fulfillment they're yearning for. Through a structured routine and support, recovery becomes possible.
More specifically, PHPs provide individuals struggling with substance abuse:
Program hours: The exact hours of partial care will vary based on each patient's needs. Program hours will consist of scheduled sessions at the facility for medical care and therapy.
Structured routine: In partial care, program hours will be based on the schedule that suits the individual's needs. This offers an opportunity to develop accountability and responsibility. Although they get to sleep at home, there is still a requirement to be at the facility for treatment.
Better chances for sustainable and long-term sobriety: Partial care is a great option for the continuum of treatment. As mentioned above, PHPs can be a great step-down treatment after completing a more intensive form of treatment. If partial care is treated as the main option, it can still help the patient receive the help they need.
Emotional Benefits of Partial Care Programs
Partial care programs[2] offer emotional support through therapy as well as the community itself. We pride ourselves in having an encouraging environment that includes a caring staff and support groups that help you through the recovery journey.
You are not alone in this struggle. Your wellness is of utmost importance to us. We'll make sure that you don't feel isolated and receive the empathetic support that you deserve to recover.
At our treatment facility, everyone is equal. From staff to patients, this is a journey we're in together. Addiction is a physical disease, just as much as it is a mental one. Group meetings and support groups are a crucial part of the recovery process. It's a way for patients to give and get support.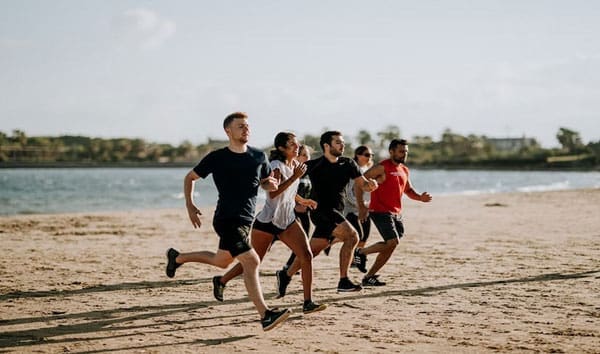 Physical Benefits of Partial Care Programs
Substance abuse treatment often needs additional support, more than what is given at home alone. Detoxification is a crucial part of most treatment programs, including partial care. Detoxification cleanses your body of toxins accumulated through substance abuse. It's important to note that this detoxification cannot be done at home without medical supervision.
Quitting "cold turkey" can have fatal consequences. Our professionally trained medical team will ensure that you're safe throughout the entire detox process.
The process of detoxification allows you to get a fresh start when you begin treatment. Ridding your body of the substance is the first step. After that is completed, the core components of treatment can begin.
Why Rehabilitation is Vital
Partial care programs are outpatient services that can help patients break free from substance abuse. Rehab gives individuals struggling with addiction another chance. Addiction is a challenge that can be conquered, and our goal is to help you see that. Pain is a temporary feeling, but the potential for growth is infinite.
Our country is struggling with a drug epidemic. It is crucial for individuals struggling with addiction to seek help. Partial care programs offer evidence-based methods to tackle addiction.
Rehab provides a structured program that covers physical, mental, and emotional concerns.
Rather than sweeping underlying mental health concerns[3] under the rug, you can choose to address and work through them. Rehab helps to show patients the potential they've always had.
It's okay to struggle. Occasionally, you may veer off the right path. However, it's crucially important to find your way back.
You don't have to do this alone. Addiction may seem overwhelming to overcome, but rehab teaches you how to turn the pain into something positive. With the right support and treatment, you can live a purpose-driven and sober life.
Continuing the Recovery Journey After Partial Care
The primary focus of partial care is to set you or a loved one up for long-term sobriety. Recovery is a journey that continues even after treatment. However, after completing treatment, you'll be much more equipped to tackle any challenges that come your way. From pain comes growth, and that's the attitude we'll help you develop.
Partial care programs help individuals develop a strong skill set that'll help them smoothly transition back into their daily lives.
We'll help connect you with support groups after treatment and offer aftercare planning as well.
There are many actions one can take when preparing for long-term sobriety. Developing fun and healthy habits are a part of that process! We encourage you to view this as a beneficial healing process that'll reconnect you to a fulfilling life. You'll find newfound joy in experiences and much more during the recovery journey.
McCarty, D., Braude, L., Lyman, D. R., Dougherty, R. H., Daniels, A. S., Ghose, S. S., & Delphin-Rittmon, M. E. (2014, June 1). Substance Abuse Intensive Outpatient Programs: Assessing the evidence. Psychiatric services (Washington, D.C.). Retrieved April 24, 2023, from https://www.ncbi.nlm.nih.gov/pmc/articles/PMC4152944/
Substance Abuse and Mental Health Services Administration (SAMSHA). (n.d.). Chapter 8. intensive outpatient treatment approaches. National Library of Medicine. Retrieved April 25, 2023, from https://www.ncbi.nlm.nih.gov/books/NBK64102/
Yes, You Can Get Your Life Back. Call Absolute Awakenings Today.
With our trained and compassionate professionals in your corner, freedom can be yours. All it takes is you choose yourself. Choosing a better tomorrow.