Family Therapy Programs in New Jersey
Address Family Concerns And Restore Healthy Communication
A Disjointed Family Unit Can Negatively Impact Every Other Aspect of Life. But There Is Hope For Healing.
Are you or your family struggling with a negative family culture? Is there resistance or unproductive behaviors when you attempt to resolve conflict? Has mental health issues and substance abuse devastated the health of your home?
A family unit that is out of sync can have a widespread impact now and later in life. It's not worth the heartache. Addressing and overcoming communication, conflict, and relational issues is a valuable undertaking that yields priceless results.
There is a solution for Family therapy New Jersey residents trust. Restore healthy relationships, build trust, resolve conflict, achieve well-being, and grow closer together. Start today.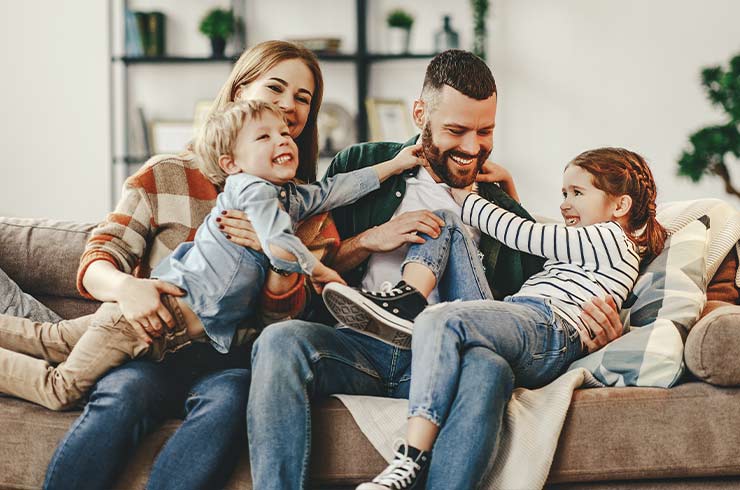 Whether the conflict primarily involves adolescents, siblings, partners, or parents, call relationships can go askew. When substance abuse and mental health challenges are present in daily life, the likelihood of increased difficulty is greater and more difficult to overcome.
Family therapy is a type of psychological counseling or psychotherapy that can take many forms, including in-person or online therapy with a trained clinician. It could be attended by all parties together, only willing participants, or the rest of the family while one is attending residential or outpatient treatment for substance abuse. Couples counseling is also an option for couples working through challenges in their dynamic.
The goal of family therapy is to help each member of the family unit improve communication and resolve conflict, navigate difficult transitions, and handle relationship issues in a healthy and productive way. Through family group therapy, each person will develop a better understanding of the other members, and their bond can be strengthened.
What Happens In Family Therapy?
At Absolute Awakenings, family therapy New Jersey is designed to suit the unique needs of each family unit. Not all sessions or treatment plans will look exactly the same as needs will vary.
There will be sessions where the entire family is present and working with the therapist together. Other sessions may be separate, where each individual will have the opportunity to be heard and engage with the therapist one-on-one.
In every session, the therapist will maintain control of the session and is in the position of being on the side of a healthy family, never one individual. They will ensure that order and respect are maintained, but there is always freedom to speak from the heart as needed.
By administering a variety of behavioral, psychodynamic, and structural specialties and therapy techniques, such as cognitive behavioral therapy, the therapist will help the family navigate both negative and positive issues.
Who Is Family Therapy For?
Family therapy in New Jersey can apply to a wide range of families, adolescents, young adults, and other participants. It is an effective modality for families struggling through the loss of a loved one, substance abuse, or a shared traumatic event.
It can help families struggling to function in a healthy way with the presence of a mental health issue or Substance Use Disorder. Families and couples navigating infidelity, difficult transitions, financial turmoil, LGBTQ acceptance, and blended family challenges.
Family counseling or couples counseling is effective in repairing parent-to-child relationships, siblings, partners, divorce and separation, as well as general communication challenges. Anyone who is part of a family that is not functioning at optimal levels will benefit from family therapy sessions.
The Benefits of Family Therapy
Families who wholeheartedly participate in family counseling will learn how to communicate effectively and express themselves in a healthy way with the guidance of trained clinicians or family therapists. They will learn skills to resolve conflict without outbursts or undesirable behaviors.
Through family therapy and counseling services, families will gain an understanding of complex family systems and establish deeper levels of trust so they can collaborate effectively and increase interpersonal effectiveness. By employing new and healthier coping and communication skills and play therapy, family members will be equipped to reduce tension and skillfully navigate obstacles in day-to-day life or through traumatic events.
Family Therapy FAQs
Effective family therapy has many goals and each may be different from family to family. However, as a field of practice, there are three primary goals to achieve during family therapy.
Healthy Boundary Setting
A boundary is not based on what another person does to you. It is based on what you will do in response. It's establishing an if/then paradigm. "If you do this, then I will do this."
This is a communication and follow-through skill that doesn't come naturally and must be developed.
Open Communication Skills
All members of the family should feel safe expressing themselves without negative consequences. However, when negative patterns must first be overcome, open communication skills must be developed and practiced in order to reduce tension and conflict.
Greater Empathy
In order to interact more effectively, it's important to understand each individual's experience. By cultivating empathy toward others, we can improve relationships and strengthen our connections to one another.
There are four general stages of family therapy that will be navigated throughout treatment.
The Preparation and Planning Phase
In this phase, family members must accept their challenges and be able to define them. Here is where the present state of affairs will be connected to the desired state and a treatment plan will be developed.
The Transitional or Assessment Phase
During this phase, the family members will confront the crisis at hand and reformulate how to respond in a new way.
The Consolidation and Treatment Phase
Here is where all parties come together and collectively invest themselves into the therapeutic work required to face and overcome past and ongoing challenges with the new skills learned.
The Disengagement or Recontracting Phase
Healing and self-efficacy begin in this phase. Each family member is empowered to move forward with productive skills as they disengage from regular therapy and adapt to the new healthy levels of functioning.
How quickly each family will move through these stages will vary greatly depending on the severity of their challenges and the level of each member's willingness to participate authentically.
Restore Your Family With Family Therapy New Jersey At Absolute Awakenings
Your family is worth the time, effort, and energy investment to overcome and restore relational equity and improved functionality. Start at our counseling center today.
Yes, You Can Get Your Life Back. Call Absolute Awakenings Today.
With our trained and compassionate professionals in your corner, freedom can be yours. All it takes is you choose yourself. Choosing a better tomorrow.