For many people, managing recovery during the holidays can be a bit of a dice roll if you're unprepared. Drinking and "merriment" are built-in features of the holiday season. Add to this the time spent with family and old friends coupled with mounting pressures to buy everyone the right gift, and you have the perfect recipe for relapse.
As wonderful as traditions can be, addiction recovery during the holidays can push even the most seasoned former addict to their limits. For some people, being around drinking and drug use is enough to push them over the edge. For others, the urge to drink (or use drugs) may not be immediate but rather plant itself like a seed in your subconscious.
For these reasons, being proactive and taking steps to protect your sobriety ahead of time is critical to staying drug and alcohol-free during the holidays.
Tips for Recovery During the Holidays
Have a Reliable Support System in Place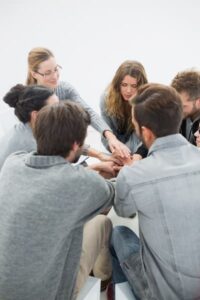 By now, you probably know how the connections you make along your recovery path play a big part in helping you stay clean and sober. Your sponsor, the friends you make in support group meetings, and anyone else who supports your efforts all make up a recovery support system. Staying connected with one or more people in this group can go a long way toward keeping you on the right track during the holidays.
Staying connected can be done whether you celebrate at home or out of town. If you're going out of town for a family get-together, local support groups in the area can be enough to get you through your time spent away from home. Daily phone calls with your sponsor may also help things along. And if possible, invite a supportive friend to accompany you for an out-of-town family get-together.
Be On the Lookout for Cues and Triggers
Anything that takes you outside your daily routine and every day habits can threaten your recovery in unexpected ways. This is especially true during the holiday season. Mounting stress brought on by family expectations, the money spent on gift-buying, ongoing work responsibilities, and other things can make a person hypersensitive to the cues and triggers that drive drug and alcohol-using behaviors.
This means you'll want to pay particular attention to the things that make you susceptible to using. Here are a few main triggers to watch out for:
Hunger – It can be hard to eat regular meals every day with all the holiday treats, parties, and get-togethers. However, once your blood sugar levels drop, feelings of hunger can trigger drug or alcohol cravings. For this reason, it's important to eat regular meals every day.
Feeling Tired – Like hunger and thirst, fatigue can also act as a trigger, so be sure to get proper rest during the holiday season.
Anger – No one can push our "buttons" as family can. After a few drinks, there's a good chance one or more family members will say something out of turn. Not letting anger or hurt feelings build-up is key to protecting your addiction recovery during the holidays. If you don't already use stress management techniques, such as exercise or meditation, now is a good time to develop one.
Keep Tabs on What You Eat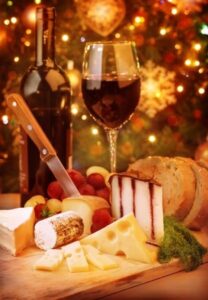 Managing recovery during the holidays means being alert on all fronts, including the food you eat. With so many new holiday recipes coming out every year, there is a good chance you'll come across a dish with alcohol as an ingredient. Unfortunately, not knowing can put you on a fast track to relapse, so be sure to ask before you eat. While alcohol does burn off during the cooking process, the residues left behind can be enough to trigger cravings. The same goes if you're recovering from a drug addiction. Alcohol and drugs work in the same areas of the brain, so eating foods that contain alcohol can trigger drug cravings, too.
Lend a Helping Hand
The support group model plays a central role in the 12-Step recovery process. Helping others deal with recovery not only benefits the people you're helping but also promotes your healing in recovery. But it doesn't stop there. Reaching out and helping others can have healing effects in all areas of life.
If the holiday season is especially difficult for you, volunteering at a soup kitchen or in any capacity can work wonders in boosting your holiday spirits. Volunteering offers an opportunity to connect with others in meaningful ways and also enables you to take the focus off yourself. This way, painful memories or past regrets can't get the best of you during the holiday season.
Plan Ahead
Knowing the people, places, and things you'll encounter is a good first step toward managing recovery during the holidays. Even better, planning how to handle various situations ahead of time is the best way to protect your sobriety. Here are a couple of things you might want to include in your holiday plan:
If possible, take your car to events and get-togethers so you can leave if you're feeling pressure
Limit the amount of time you spend in situations that you expect to be difficult, such as with certain family members or places where alcohol flows freely
Take a supportive friend or even your sponsor with you
Make it a point to attend support group meetings before and after attending events
Never feel like you have to explain why you're not drinking (or doing drugs) unless you want to talk about it
Try not to over-extend yourself. If you don't feel up to attending an event, say no
Keep in mind sometimes you can do everything right and still end up relapsing. And that's ok. Just make sure you get the help you need when you need it.
And while the holidays may not seem like the "right" time to get treatment help, it may be the best time for you. With emotions running high at this time of the year, it can be a prime time for slips and relapses. If you don't feel like you can handle it all, entering treatment now rather than later may be the best gift you can give yourself and your family. Call Absolute Awakenings now to discuss your options.
References
Melemis SM. Relapse Prevention and the Five Rules of Recovery. Yale J Biol Med. 2015;88(3):325-332.
Tracy K, Wallace SP. Benefits of peer support groups in the treatment of addiction. Subst Abuse Rehabil. 2016;7:143-154. doi:10.2147/SAR.S81535
Kelly JF, Humphreys K, Ferri M. Alcoholics Anonymous and other 12-step programs for alcohol use disorder. Cochrane Database Syst Rev. 2020;3(3):CD012880. doi:10.1002/14651858.CD012880.pub2
Absolute awakeings treatment center editoral guideline
At Absolute Awakenings, we take information integrity seriously. We have dedicated our resources to ensure that all content published to our blog is medically sound. As such, all content on our blog has been thoroughly reviewed by a doctorate level clinician such as a Medical Doctor, or Psy.D, so that you can trust all of the data we publish.