What You Should Look For in an Addiction Treatment Center
Maybe you have a friend or family member that needs treatment. Finding the right treatment center can be demanding because there are many things to consider. 
Deciding to go for treatment is the toughest and easiest thing you will ever do. It is so difficult to admit you have a substance use disorder, but it is as easy as picking up your phone and asking for help. Finding the courage to ask for help is the hard part, but it can always be done.
To improve your chance of success and continuing recovery, here are 10 questions you should ask before you choose a facility.
Does it have a 24-hour medically supervised detox?
If you have been substance dependent for a long time, and your tolerance is increasing, you will need a medically supervised detox. Withdrawal symptoms from some substances can be extremely physically and psychologically painful, which causes many people to give up and start using again. Withdrawal from some substances is relatively mild but can lead to psychosis and depression, which in turn, may lead to suicide.
Does it treat the type of addiction that you have?
Make sure the treatment center treats the type of addiction you have. If the facility is an "alcohol only" facility and you have an opioid addiction, then it is obviously not the place for you. Make sure they can treat your drug of choice and any other drugs you may be using, including alcohol, if that is also an issue.
Does it offer a treatment program that suits your needs?
The type of treatment you need will depend on your individual situation. There are a multitude of factors that determine whats best for you. It's best to talk to an addiction treatment specialist to determine your best option.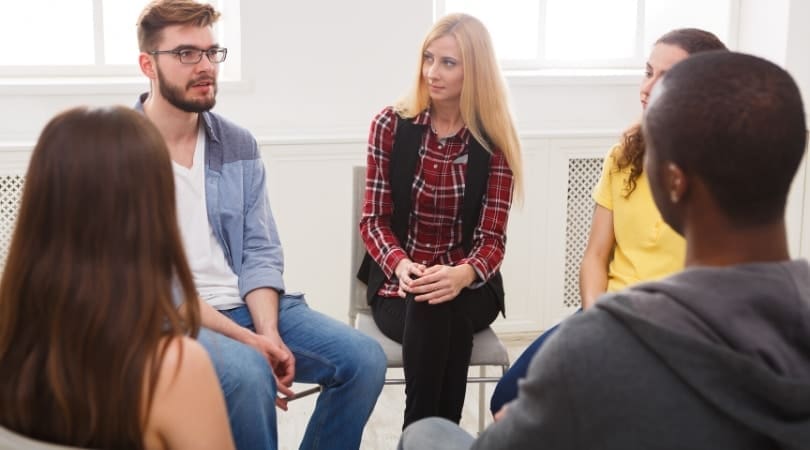 To help you make a more informed decision, consider the following treatment options.
If you have a severe mental or medical issue along with substance abuse, inpatient may be the best course of action for you. You will live at a hospital or medical center throughout your rehab. It isn't common but it is appropriate if you have severe issues.
This is sometimes also called inpatient treatment.If you have stopped before and repeatedly relapsed, or you have been through an outpatient program and relapsed, a residential program may be what you need. In a residential program, you will live at the treatment center where you are removed from the stresses and triggers in a controlled environment.
Partial Hospitalization (PHP)
Partial hospitalization is a hospital-based type of outpatient treatment. It offers many of the same intensive services as a residential treatment except the patients return to their homes each day. Patients attend treatment sessions for several hours a day for 3 to 5 days a week.
Intensive Outpatient Treatment (IOP)
An IOP is a level of treatment that gives you the opportunity to carry on with other parts of your life, such as school, work, and family commitments, while still receiving a high level of care. It can also serve as a step-down form of treatment after completing a more intensive treatment program. 
It is also a lower cost than a residential treatment program. If you have supportive family and friends, one of the outpatient treatment programs could be suitable for you.
Outpatient Treatment (OP)
Outpatient treatment is yet another step down from IOP. You will be able to live at home and practice the skills you have learned in treatment in real situations. It should include all of the features of IOP but with fewer sessions. It also has the additional benefit of allowing you to continue to receive treatment for a protracted period.
Does it treat co-occurring disorders?
If you are suffering a substance use disorder and a co-occurring medical or mental health disorder, you will need a treatment facility that can treat both conditions simultaneously. A facility with experience in treating a dual diagnosis is a necessity.
People with SUDs often suffer from depression, anxiety, or bipolar disorder.
Does it offer medically assisted treatment (MAT) if necessary?
Depending on your addiction, there are medications that can be prescribed to help prevent you from relapsing. 
With the selection of medications now available to treat the prescription painkiller epidemic, providers must be experienced in medication-assisted treatment. The most effective medications to treat opiate dependence are methadone and buprenorphine. These are long-acting medications that do not get the person high. When taken correctly, they help the individual feel normal and live a normal life.
There are three drugs approved for alcohol use disorder (AUD), and each works differently. 
Disulfiram—changes the way your body processes alcohol. You will get sick if you drink while taking it.
Naltrexone—turns off the pleasurable feelings associated with drinking alcohol. You can get drunk, but that pleasure center is turned off.
Acamprosate—eases withdrawal symptoms like insomnia, anxiety, and restlessness that can last for months after you stop drinking alcohol.
There are currently no medical treatments to help with cocaine or marijuana addiction, but stopping your use can lead to other symptoms that need medical supervision, depending on the severity and duration of your addiction.
Does it offer family therapy?
Your SUD has probably caused an upheaval in your family. Treatment programs for those who have alcohol and drug addiction issues have better results if the family or close friends also take part in the process. 
The goal of family therapy is to repair relationships and promote closeness among the family members if they choose. In the context of addiction, the therapist will probe with the family how substance use has become part of the family dynamic. They can also provide education about substance use for the family and help members learn to reduce their unhelpful behaviors and increase their helpful ones.
If the family and friends do not get involved in learning about substance use, it might obstruct the addict's recovery if those close to him continue dysfunctional or enabling behaviors,
Treatment experts advise that substance abuse counselors include family therapy techniques in their treatment.
What are other therapy programs available?
Treatment centers often have several behavioral therapies to implement as required for the patient's needs. The same treatment protocol will not be successful for every patient. That's why it's necessary for your treatment center to have an array of therapies and professionals. Some of the more common behavioral therapies are:
Cognitive Behavioral Therapy (CBT)—Cognitive behavioral therapy is a short-term, goal-oriented therapy treatment. The goal is to change your patterns of thinking and behaviors. By making this change, you will stop the causes of your problems and therefore change the way you feel. It will teach you how your thoughts, feelings, and behaviors influence each other and how to recognize when your thoughts are not based in reality.
Dialectical Behavior Therapy (DBT)—DBT is similar to CBT but with an emphasis on emotional and social aspects. It will teach you how to deal with extreme or unstable emotions and harmful behavior.
Motivational Interviewing—This counseling method helps you find the internal motivation you need to change your behavior. The goal is to move you away from a position of indecision or uncertainty and towards discovering the motivation to making positive decisions and succeeding in established goals.
Group Therapy—Group therapy is typically a group of 5 to 15 members and 2 therapists. In a group therapy session, you will be held responsible for your actions by other members of the group, as well as the therapist. This allows for discussions of coping skills and relapse prevention.
Support groups—Frequently there will be support groups meeting at the treatment center. Groups such as Alcoholics Anonymous, Narcotics Anonymous, and SMART Recovery offer support and encouragement during your recovery. Peer groups teach you new ways to cope with your triggers and will hold you accountable for your actions. It is also comforting interacting with people who have been where you are.
Is the location convenient?
You may have restrictions on how far you are willing and able to travel for treatment. Some people benefit from traveling far from people, places, and situations that might make recovery more difficult.
Others need to be close to home and in a program that allows them the ability to go to treatment and go home or to work or school. You will want to discuss this with your family, employer, and insurance company.
Does it have aftercare programs?
Aftercare programs are an immense help in preventing a relapse. Learning to live a totally independent life outside of a treatment center is vital and sometimes frightening. An aftercare program will help you get back into life without drugs or alcohol and help you maintain your sobriety.
Sober Living
Sober living, also called Independent living homes, are a way to transition out of treatment while still maintaining structure, meetings, and strict rules.
Support meetings
Maintaining your participation in a 12-step group is a way to receive support from other members while offering support to others.
Case Managers
Some treatment programs have Case Managers who act as your mentor and guide you through recovery. After treatment, they can help with counseling on family life, career, and many other questions.
Does it have payment options?
Insurance—Most facilities accept a variety of insurance providers. You will need to check with your provider to find out what will be covered.
Does it offer a payment plan?
Will it accept Medicaid if you qualify?
Are there financial counselors who can advise you on your options?
These are all important considerations when choosing a rehab center. No matter what type of addiction you have, there is a place that will meet your needs and requirements. If you are interested in helping someone close to you, suggest you help him or her research some treatment centers. 
Why are you interested in going? Would you like to feel better? Have the hangovers and withdrawal symptoms finally gotten to be too much for you?
Would you like to mend broken relationships and trust? Is your home and family life in turmoil? People close to an addicted person are suffering too. 
Have you lost everything for the sake of the substance you misuse? Jobs, friends, family all take a backseat to the drug. 
Is a legal complication forcing you to attend a rehab? Studies have shown that a person who does not go voluntarily can still achieve sobriety and maintain abstinence.
Absolute Awakenings is a comprehensive treatment facility in Denville, New Jersey. We are always glad to answer your questions. Contact us today. Don't wait any longer. You have come this far so pick up the phone and call. It's that easy.
References: