Mixing Opiates and Alcohol
Mixing alcohol with opiates not only worsens all of the effects of drinking, but it can also be life-threatening. Learn about the dangers in our featured article.
When used alone, alcohol can result in serious side effects – even if one is not chemically dependent. Drinking alcohol is considered a societal norm. Most people will consume alcohol at some point during their lives, and many people will drink too much on occasion. Drinking too many results in lowered inhibitions, an increase in risk-taking behavior, and in some cases, "blacking out" – forgetting large periods. Common symptoms of alcohol intoxication include slurred speech, a lack of coordination and motor skills, confusion, blurred vision, and an inability to focus on any one thing, mood swings, irregularities with the heartbeat, and respiratory depression.
Mixing alcohol with opiates not only worsens all of the effects of drinking, but it can be life-threatening. In recent years, prescription opiates like morphine, hydrocodone, and oxycodone began being prescribed heavily for the treatment of moderate or severe pain. Unfortunately, it was soon found that prescription opioids were extremely habit-forming, and many individuals developed serious substance abuse disorders. It is not uncommon for those struggling with opiate addiction to use their drug of choice in conjunction with alcohol, seeing as doing so often increases the effects of the drug, resulting in a more intense "high." Taking opiates other than as prescribed can be extremely dangerous, and mixing opiates with alcohol can lead to serious – and sometimes permanent – health-related issues… including overdose-related death.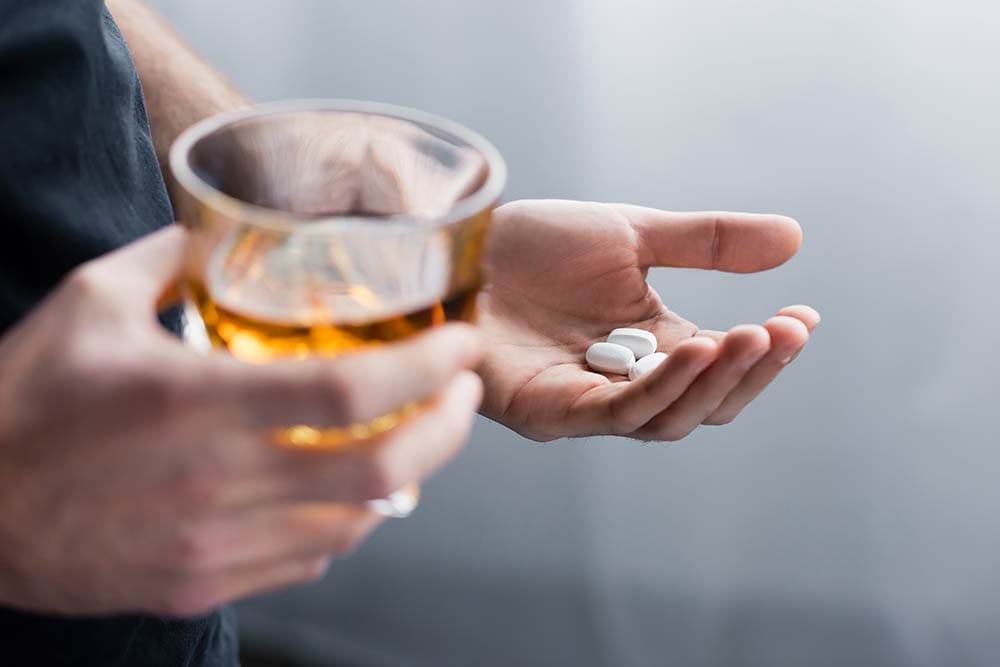 The Dangers of Alcohol and Opioid Abuse
Alcohol itself is a depressant, and combining this chemical substance with another depressant (such as opiates) can be fatal. The two substances work together to exacerbate and worsen negative effects, such as the central nervous system depression. Breathing is slowed as is brain functioning, and blacking out becomes far more common. Overdose-related deaths involving alcohol and opiates have been on the rise throughout the United States in recent years – this is partially due to the increase of prescription opioid circulation. However, once it was determined that prescription opioids were not safe to prescribe so freely, government officials issued a crackdown on drugs like morphine and oxycodone. At this point, it was too late, and millions of Americans were already struggling with opiate addiction. Rather than seek professional help, the majority of these men and women sought a more affordable and attainable alternative; heroin. Heroin is also frequently used in conjunction with alcohol. Of course, seeing as heroin is an illicit and dangerous drug, taking it in any amount is never recommended. Mixing heroin and alcohol – even if alcohol is taken in an extremely small amount – can lead to serious side effects. 
Respiratory depression will increase, leading to shallow breathing and potential overdose. A recent article published in Science Daily describes the dangers involved in using both substances at one time. The article explains the life-threatening respiratory depression can occur with small amounts of each substance, such as one mixed cocktail and one oxycodone tablet. Despite the dangers involved in taking opiates with alcohol, many individuals still struggle with polydrug abuse. At Absolute Awakenings, we specialize in treating men and women who struggle with multiple addictions. Our comprehensive program of addiction recovery thoroughly tackles all existing disorders, leading to lasting, fulfilled sobriety. 
Polydrug Addiction Treatment
Many medical professionals confirm that the majority of the opiate-related emergency room visits they see directly involve alcohol as well. When an individual is prescribed a potent opioid painkiller, the prescribing physician will always recommend that alcohol is avoided entirely, seeing as the health issues relating to opiate and alcohol use are well-known and widely understood. Still, some abuse alcohol and opiates simultaneously. It could be possible that one addiction preceded the other. Perhaps an individual struggling with an alcohol abuse disorder is prescribed oxycodone after a surgical procedure. Perhaps an individual struggling with a heroin addiction attends a social event and decides to have a few beers. Regardless of what the case may be, those who are combining these two substances must seek professional care as quickly as possible if they want to avoid serious complications. If you or someone you know is struggling with polydrug abuse of any kind, we at Absolute Awakenings are available to help. To learn more about our program of recovery, simply give us a call today.
Perhaps an individual struggling with a heroin addiction attends a social event and decides to have a few beers. Regardless of what the case may be, those who are combining these two substances must seek professional care as quickly as possible if they want to avoid serious complications. If you or someone you know is struggling with polydrug abuse of any kind, we at Absolute Awakenings are available to help. To learn more about our program of recovery, simply give us a call today